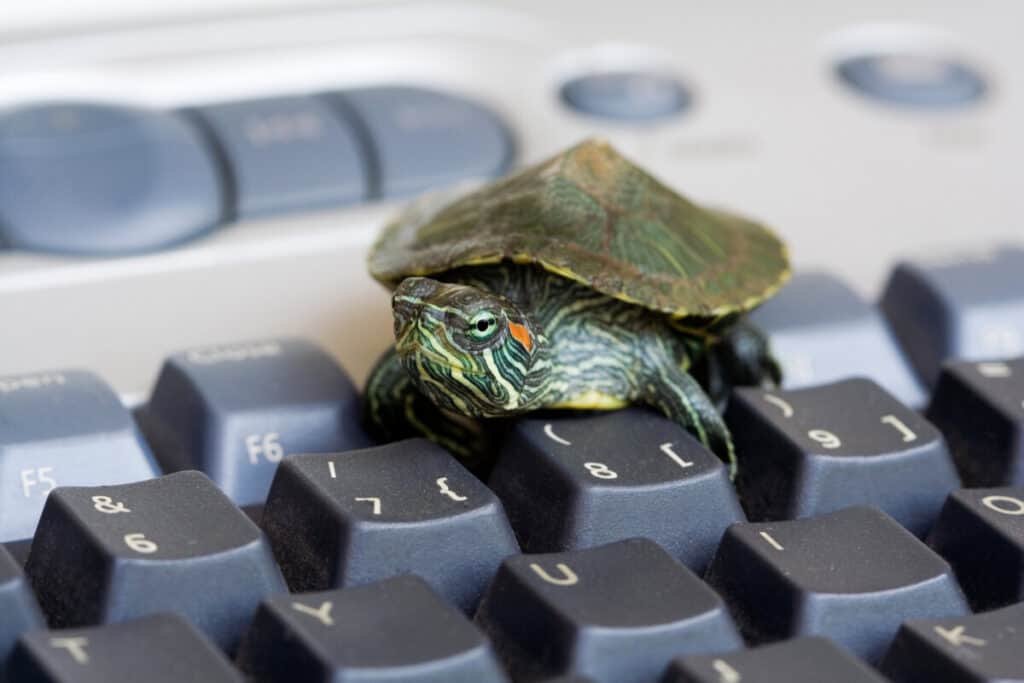 If you're planning on petting a baby turtle, you need to understand what it takes to effectively care for it until it grows into an adult turtle.
Although turtles are not popular pets, those who know them can attest that they're cute and adorable. Some of the common baby turtles kept as pets are those with green shells, such as painted turtles, the American snapping turtle, yellow-bellied turtle, and Eastern River Cooters.
Although you can easily buy a turtle in a pet store and have an easy time fitting it in your home, baby turtle care is a whole lot of work. You need to be keen to know your baby turtle's needs and wants.
In other words, taking care of baby turtles varies from caring for adult turtles, as they are vulnerable to environmental stress and changes than their older counterparts.
In this guide, we'll discuss everything you need to know about baby turtle care and how to ease it to your home as a pet.
But before then, let's clear something out.
Turtle's Facts
Many people confuse turtles with tortoises, but these two are different species. To go straight to the point, most turtles, except the Eastern Box Turtle, are either aquatic or semi-aquatic. Generally, turtles are aquatic, while tortoises are terrestrial.
Aquatic turtles entered the US pet trade in the 1940s and 1950s, with the most popular aquatic turtle kept as a pet being Red Eared Slider.
Aquatic turtles in captivity can grow more extensive than many people expect, often hitting 10-12 inches in length. They can reach 20 years when properly cared for, and it's not surprising for some to even exceed 40 years.
With that in mind, let's get to the business of the day – taking care of baby turtles.
How to Take Care of Baby Turtles
Do you know why turtles are fascinating and adorable? Well, one reason is that they carry their whole house with them.
Away from that, raising these pets requires one to observe some specifics. Baby turtles are the most vulnerable and thus needs more exceptional care.
Here are the basics to keep in mind if you're planning on raising baby turtles:
Prepare His Home
The initial thing you should do before bringing a baby turtle home is finding space for them. We've already pointed out that most turtles are aquatic or semi-aquatic, which means you have to prepare a home with access to water, basking area, and land. This means it should have a fully functioning terrarium for them to enjoy the best of both environments.
It's important to mention that turtles are lovers of expansive space, which means you'll need to designate ample space for them. Keep in mind that even baby turtles will get bigger, and thus you have to consider this when making their home.
Baby turtles shouldn't be put in an aquarium or fish tank as they need to come out of the water from time to time. Therefore, their water shouldn't be too shallow or deep as they need to swim well and come out of the water to rest on land.
A rule of thumb is that their swimming water should be an inch higher than the width of their shell. This means you have to measure the width of their shell to know how deep to fill their water tank.
Make sure to change its water often as they'll continually defecate in it. You can add a few rocks and tiny green plants in the water tank to give your baby pet a more natural environment, even in captivity.
Depending on the species, your baby turtles may eat the water plants, and thus you shouldn't keep the plants for decorative purposes – you'll be disappointed.
In their natural settings, turtles feed on green plants and thus may nibble plants in their tanks even when you have fed them well.
Making their enclosure as natural as possible will lessen the stress on your baby pet – stress is one of the issues they suffer from. Remember to secure the space. 
The baby turtle shouldn't be left to roam around the house as they can eat things that could harm them. Also, they can get out of the house and get lost since they don't know their way back home.
Choose the Right Water Tank
We've talked about a water tank in the previous point, and it's good that we elaborate on it more. As a general rule of thumb, the tank should have water one inch taller than the width of your turtle's shell for them to swim effortlessly and be able to walk out of the water with ease. To give you a practical example, a two-inch turtle should have a 20-gallon tank, while a 5 inches' turtle should have a 50-gallon water tank.
Remember that baby turtles tend to grow fast, and thus you should invest in a tank they can grow into. You'll find a lot of the best turtle tanks varieties in the market. Research to know the right one for your turtle.
Maintain the Right Temperature of the Water
After preparing his home and investing in a water tank, the next thing is to add water and ensure it has the right temperature.
Turtles are poikilotherms, which means they cannot generate their own body heat. Therefore, they rely on the environment to heat their bodies. As a result, they can be pretty sensitive to temperatures.
There is no exact temperature ideal for all turtles, but 27 degrees Celsius (80 degrees Fahrenheit) will serve most turtles right.
You'll need to invest in a water heater to maintain your water at 80 degrees. When buying a submersible water heater, make sure to get one with some protection as baby turtles may not be able to resist coming into contact with it. Also, make sure the submersible heater allows you to select the temperature.
In addition, ensure the tap water you're adding to the water tank is safe for them. It shouldn't be chlorinated.
Set Up the Baskin Area
Most turtles are semi-aquatic, which means they'll need a home away from home (water tank). By this, we mean the basking area where they can get UVB rays and heat. Therefore, you have to ensure the basking area has these essentials. 
Essentially, the basking area should have sunlight, but this will not be the case in most cases, which means you have to create an artificial set-up. To help with this, invest in two light bulbs, one for providing heat and the other for UVB rays. 
UVB light helps produce vitamin D3, which is needed to help the body absorb calcium and phosphorous. Without UVB light, your turtle may suffer from metabolic bone diseases, shell rot, softshell, improper bone growth, etc.
The heat bulb supplies heat to the basking area for the turtle to absorb.
How do you choose good bulbs for your turtle's basking area? When shopping for bulbs with UVB light, you'll notice they come in two types – tubes and bulbs. Overall, the tubes are better.
Ensure that you don't confuse those producing UVA with those producing UVB light, as this is a common mistake many people make. While UVA is not harmful to your turtle, it won't serve the same function as UVB light.
For the heat bulb, it's a little bit challenging as you have to choose one that doesn't produce excess heat. A bulb producing 95 degrees Fahrenheit is ideal. However, if you get a more robust heat bulb, you just need to raise it slightly.
Feed Your Baby Turtle Right
After all, is said and done, your turtle will only survive and grow healthy if you feed it right. That's why you need to know what and how much to feed your turtle.
Turtles are primarily omnivorous and thus will eat veggies, meat, and fruits. Baby turtles have a pretty similar diet to adult turtles, with the only major difference being that baby turtles need more proteins.
A balanced turtle diet should have 70% pellets, 10% vegetables, 10% fruits, and 10% dried insects/meat.
Pellets should comprise their main diet, while vegetables, fruits, and meat tend to be like treats or snacks. Get special turtle treats with more protein for your baby turtles. If you don't find pellets for your baby pet, give them more dried insects or meat.
Let's talk about feeding different types of baby turtles
Feeding Baby Box Turtle
A box turtle is the most common land turtle in the US pet trade, and they got their name from the shape of their hinged shell. These turtles can pull their head, tail, and legs into their hinged shell, thereby sealing themselves inside like a box.
As hatchlings, baby turtles prefer to eat meat over greens, but they become more omnivorous as adults.
In the wild, baby box turtles feast on whatever insect come their way, but in captivity, you can finely chop mealworms, small crickets, nightcrawler worms, earthworms, tubifex worms, tomatoes, beans, green lettuce, and special treats such as melon, banana, and apricot.
Offer your baby box turtle meal and plant matter once every other day. They are likely to refuse any plant matter for the first ten weeks, but their bodies will push them to sources of minerals and vitamins. Therefore, they will start to feed on plant matter once their internal clock tells them to. Allow them to feed on plant matter for one hour and remove any leftovers to clean their enclosure.
Feeding Red-Eared Slider Babies
The red-eared slider is a popular semi-aquatic turtle in the pet industry. Just like a box turtle, red-eared sliders hatchlings prefer meat to plant matter, but as they become adults, they become omnivorous.
In their natural habitat, red-eared sliders have access to plants and meat since they live in lakes, streams, and ponds.
Like their box turtle counterparts, feed your baby red-eared sliders a mixture of protein and plant to ensure that they grow strong and healthy.
They can eat turtle pellets specially meant for red-eared sliders, green lettuce, dandelion leaves, chopped apples, guppy fry, silkworms, mealworms, earthworms, and aquatic plants such as water lily, water fern, anacharis, duckweed, and water hyacinth.
Feed red-eared slider babies once a day, and ensure their primary staple food is protein-rich and has all the necessary minerals and vitamins. Further, make sure that the food is nutritionally balanced and labelled for red-eared sliders.
Feeding Tips
Feed baby aquatic turtles on a daily basis. Adult turtles should be fed two or three times a week.
Consider feeding them in a container rather than in the main tank to avoid soiling their enclosure with food wastes. Feeding the turtles from a container also helps to keep the water tank clean.
Use a floating veggie clip to hold vegetables and greens for your baby turtles. The clip prevents veggies from sinking into the water tank.
Feed the baby turtles daily and adult turtles every two or three days.
Feed box turtles in the mid-morning when their body system is active.
How Much Should You Feed a Baby Turtle?
You don't have to be extra careful regarding portions of food you feed your baby turtle, but of course, this does not mean you overfeed your lovely pet. A simple way of knowing the right amount of food to feed your turtle is to give equivalent to the size of its head.
Get a small container such as a shot glass, a bottle cap, or a medicine cup close to the size of your turtle's head and fill it to the top. That'll be enough food for your pet.
Don't worry if you give a little too much food and sometimes a bit too little; they'll still be fine. Turtles are not affected by slight variations in food quantity.
Using a container that fits your turtle's head to measure portions work great as it ensures you give it a fixed amount of food at any given time. As the turtle grows, adjust the amount accordingly.
Most Common Turtle Care Mistakes to Avoid
There're a lot of mistakes pet parents make when taking care of baby turtles. Here are the main ones:
Not Gathering Enough Information About Proper Turtle Care
If you're thinking about getting baby turtles as pets, make sure to gather as much information about them, especially regarding taking care of them.
Our guide has covered a lot about taking care of baby turtles and the supplies you should buy before bringing your pet home.
Choosing a Demanding Species
Another big mistake most first-time pet parents make is choosing a species that's challenging to care for. Even if pet turtles require more care than other pets, some species tend to be more demanding than others.
You might be tempted to go for an exotic species, but if the species calls for specialized care, then you'll be doing a disfavor to yourself and the turtle.
If you're thinking about petting a turtle, go for a species that's beginner-friendly, such as red-eared sliders, painted turtles, and mud turtles.
Going for an Undersized Tank
Although you may rectify this easily, it is a mistake you should avoid. When choosing a tank for your baby turtle, go for a tank they can grow into. A good rule of thumb to prevent under-sizing a tank is to know that there should be at least 10 gallons of water for each inch of a turtle's shell.
The best thing is to go for a big tank from the start so that your baby turtle can have more space to live and swim.
Overfeeding or Underfeeding
Turtles tend to eat everything you throw at them, no matter how much you give them. Thus, you need to be careful not to overfeed them as too much food will result in pyramiding, which is a severe untreatable infection.
Pyramiding happens when turtles overeat protein to an extent their shells start to develop bumps. Bumps cannot be treated and will remain with them for life. It might not be dangerous unless overly pronounced, but it isn't pretty.
When you underfeed your turtle, especially the baby and juvenile turtles, they'll grow at a slower rate. In fact, they may stop growing unless you give them enough balanced foods.
An underfeed turtle will look skinnier on the underside, become less active, and frequently get sick due to deficiencies.
We've talked about portions and what to feed your baby turtles in this guide.
Failure to Give Food Variations
Even if your baby turtles seem to prefer meat over other types of foods, they still need to eat vegetables and fruits. In the wild, turtles eat various foods, majorly wild plants, fruits, and vegetables – meat is usually a rare meal.
Therefore, even when your young turtle is not interested in vegetables and fruits, keep giving them. At some point, it'll change its mind.
Not Providing Enough Light
You shouldn't leave your turtle in a dark room, with the only place having light being its basking area. The entire tank should be lit with UV bulbs emitting UVA and UVB lights. Have a special light close to its water tank that stays on for 12 hours.
Covering the Water Tank
Covering the water tank with a glass or plastic is a mistake you should never make. First, if your tank is in the open where the sun reaches, you'll be depriving your turtle of UVB light, thinking you're protecting the pet from the scorching sun. UV rays can't get through plastic or glass.
In addition, covering your tank with solid plastic or glass can raise the temperatures in the tank, making it uncomfortable for your pet to stay inside.
Handling Them Too Much
Baby turtles tend to be stressed easily, and handling them adds to their stress. However, this does not mean you shouldn't handle them, just limit your interaction with them.
Handling them too much can make baby turtles overaggressive.
Keeping Too Many Turtles in One Tank
Baby turtles can coexist peacefully with each other, but as they grow into an adult, they may start fighting over food, space, mating partners, etc.
To avoid this, move some turtles to different tanks.
Frequently Asked Questions about Baby Turtles
Why Is My Baby Turtle Not Eating?
In the wild, some turtles can survive without food for months. The duration in which a turtle can survive without food depends on its fat deposits. 
It's important to mention that baby turtles are easily stressed, and anxiety can kick in and mess up their appetite for a couple of days. However, if your baby turtle doesn't start to eat well after a few days, this should be a matter you need to look into.
Below we have some of the most probable reasons why your baby turtle is refusing to eat:
Its tank water is dirty
Very high or low temperatures
Incorrect lighting schedule
A sudden change of environment and noise
Providing an ideal environment to live in is one of the ways of making your pet eat. Without a proper environment, your turtle will experience stress and anxieties, eventually affecting its appetite.
Turtles are also timid, and thus if they are near a noisy room, they will be scared to come out for a meal. If you feel the enclosure set-up is accurate, then you need to check the food you're feeding them. Baby turtles are picky with food. Try to alternate between the foods we discussed earlier.
If everything fails, and your baby turtle is still refusing to eat, take him to a reptile vet for a blood checkup. The vet will check for common causes such as vitamin deficiencies, infections, and parasites. After treatment, your little pet will start devouring its favorite turtle foods.
What Must I Have Before Welcoming a Baby Turtle Pet Home?
Well, we discussed a lot of things you need to make your baby turtle feel at "home", but here are the essential items that you need to have:
Tank. Turtles are aquatic and semi-aquatic and thus need a watertight aquarium. Make sure the water is not too deep so they can walk out of the water easily and not too shallow that it can't swim easily. You can have tank accessories such as plants and décor.
Substrate. With an aquarium, you have the option to have a bare bottom, turtle specific pebbles, substrate, or pool filter sand. It is vital to use pebbles and gravel that are not too small as your turtle can swallow them.
Heat and light. Your baby turtle will need UVB rays to maintain its bone structure and shell. Also, it will require a heat lamp to keep the basking area warm. If you don't want to keep turning the lights on and off, purchase heat lamps that shine red at night so as not to bother your baby turtle when it sleeps.
Basking area. Turtles need a terrestrial area where they get to warm their body. This is where you put your heat bulbs.
Filters. A turtle's water tank needs to have a strong filtration system to maintain water quality.
Of course, you need to have food sources for your pet.
Do Baby Turtles Make Good Pets?
The truth is that baby turtles do not make good pets despite being cute and adorable. This is because they are not big enough to be handled, and if you hold them a lot, they tend to get stressed easily, leading to aggression in future and health problems.
In fact, most turtles prefer to be left alone unless when you are feeding them, maintaining their enclosure, and during vet visits.
Turtles are considered babies until they are one year of age, where they graduate to be called juveniles. Breeders should tell you the age of a turtle you purchase from them, but pet stores may not be able to provide this information.
If you are to pet baby turtles, you need to have knowledge of how to care for these little guys. Know that they are sensitive to stress and vulnerable to illnesses. In addition, most are nocturnal, which means handling them during the day when there are bright lights will add even more pressure to their lives.
Baby turtles also require daily feeding, and you need to check their enclosure for dirt and monitor basking temperatures on a daily basis. In addition, you'll need to monitor the water quality in their tank and change it if it's dirty.
All these reasons make baby turtles and turtles, in general, high maintenance pets. Only if you're ready to take care of them well can you consider petting them.
Where Can I Get a Baby Turtle and How Much Do They Cost?
You can get baby turtles from big box pet stores. Most sell turtles in the juvenile stage. Also, you may find baby turtles at local pet stores or aquatics.
However, a surefire way of getting the best breed for your needs is through online shops and breeders. Research to find breeders in your locality or nearby areas or online stores to know their legitimacy. Some sellers may sell you unhealthy baby turtles, which means you'll start petting your turtle on the wrong foot.
To purchase a baby turtle, you're likely to part with a minimum of $50. If you are purchasing those with unique shell patterns or specific species, the price can rise in excess of $500.
You might be tempted to purchase a small enclosure when you purchase a baby turtle since the pet looks small. However, don't fall into this trap as baby turtles grow rapidly in their first year and will quickly outgrow. Therefore, make sure to invest wisely for the future.
We've talked more about what you need; check the basics you require for proper baby turtle care.
Can One Raise Two Baby Turtles in the Same Area?
One baby turtle may feel too small and lonely for your big water tank, and you might be tempted to add more to the space. With baby turtles, you can raise more than two simultaneously as they hardly eat anything substantial, and if you get those in the same species, requirements will be the same.
The good thing with baby turtles is that they tend to get along with each other pretty well as they interact in the water tank.
So, yes, you can raise two baby turtles in the same aquarium, as long as it's big enough to accommodate both.
How Do I Know That My Baby Turtle Is Unwell?
We've severally said that baby turtles tend to get stressed and ill easily, and therefore, it's essential to know the signs of illness and stress.
Shell damage. If a baby turtle has cracks, soft spots, or peeling on its shell, you may need to see the vet as soon as possible to determine the cause.
Swollen eyes, eye discharge, and lethargy. If you see some of these signs, your turtle may be suffering from vitamin A deficiency. Vitamin A deficiency can be remedied with a balanced diet, but it's important to see the vet. Take note of what you've been feeding your baby turtle for the vet to advise accordingly.
Open mouth breathing, lack of appetite, and nasal discharge. If you sight any of these signs, then your turtle might be having respiratory infections. These infections are usually caused by viruses and bacteria as well as vitamin A deficiency.
Keep in mind that respiratory infections can kill your pet if left untreated, and thus you'll need to visit your vet as soon as possible.
How Many Hours Should Baby Turtles Stay Out of the Water?
Turtles are aquatic creatures and thus will spend most of their time in the water. However, they do get out of the water to bask. So, you might ask, how long baby turtles should stay out of the water.
The fact is that turtles can remain in terrestrial land for a long time without going back to the water. It all depends on the atmosphere (temperature and humidity levels).
However, in captivity, you shouldn't let your turtles stay out of the water for long. Therefore, keep an eye on them.
How Many Hours Should Baby Turtles Bask?
It's difficult to tell the right amount of basking baby turtles to need, but 2-3 hours a day is alright. Sometimes, they can bask for more hours.
Turtles will know when their body has absorbed enough UVA and UVB radiations. However, you should only limit the lights in the tanks to 12 hours, just like in their natural world, where the sun stays up for 12 hours. This will help turtles know when they have gained enough UVB.
Can A Baby Turtle Drown?
The simple answer to this is yes. Even adult turtles can drown. But the good thing is that baby turtles can hold their breath in the water for a considerable time, which is why they tend to stay submerged in the water for long. 
Therefore, make sure the water tank is not too deep for your baby turtles. We've already explained how much water you should put in the water tank.
Can A Baby Turtle Live with an Adult Turtle?
If possible, a baby turtle shouldn't live in the same enclosure with big turtles because the two require different temperatures. Further, the bigger turtles might injure the small ones, thinking they are competing for food. Therefore, keep them in different enclosures.
How Do I Prevent Contracting Turtle-Acquired Salmonella?
If you're getting started with turtles, you should be aware of turtle-acquired salmonella. The great news is that it can be prevented, and you can do this by observing good hygiene practices such as washing your hands with soap and running water after handling it. Also, avoid kissing your pet's shell. 
Additionally, regularly clean your pet's enclosure and properly dispose of its waste to reduce the chances of contracting salmonella bacteria.
Conclusion
Baby turtles are cute, adorable creatures, but they can be challenging to care for and thus don't make the best pets, especially for kids and people who like interactive pets.
Your baby will likely associate you with food and thus will prefer that you give them space. Therefore, minimize handling them as they can get stressed. Stressed baby turtles tend to get sick easily.
Your work is to provide proper care, clean their habitat, clean them, and take them for vet visits once in a while. In other words, make them happy, and you'll have an easy time raising them.
Only purchase baby turtles only if you absolutely love turtles.