South Carolina is home to a diverse number of organisms. They all play a significant role in the state's ecosystems. Among these animals are turtles, the hard-shelled reptiles. Turtles range in habitat, diet, and weather requirements, and South Carolina provides this to 20 turtle species.
South Carolina is home to 14 native species, a tortoise, and five sea turtles. They are:
Bog Turtle
Florida Cooter
Eastern River Cooter
Eastern Chicken Turtle
Eastern Box
Eastern Painted
Eastern Mud
Striped Mud
Diamond-backed Terrapin
Common Musk
Common Snapping
Yellow-bellied Slider
Gopher Tortoise
Spiny Softshell
Florida Softshell
Hawksbill Sea
Kemp's Ridley Sea
Loggerhead Sea
Green Sea
Leatherback
The populations of these turtles vary widely. While some are common across South Carolina, others are found in specific areas. Let's now look at each of these turtles' appearance, size, diet, habitat, and reproduction, among other things.
1.      Bog Turtle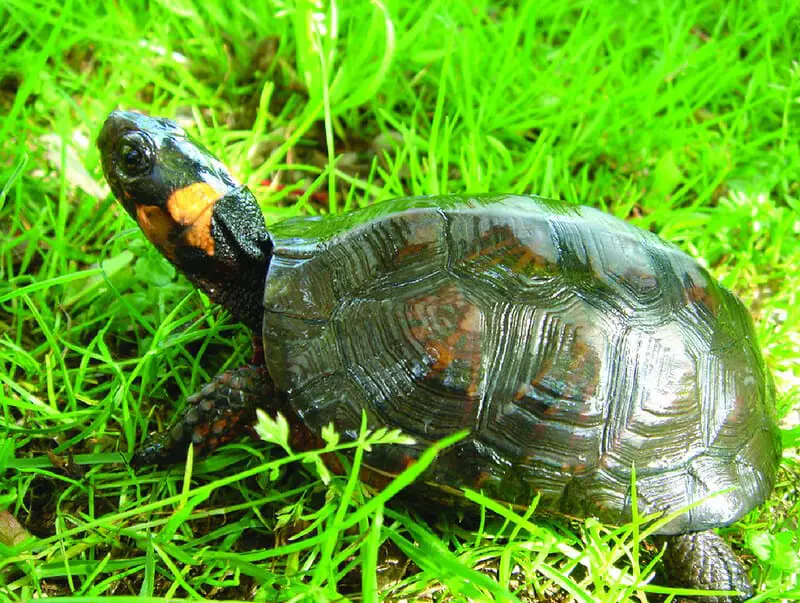 We begin with this turtle whose biological name is Glyptemys muhlenbergii. It is also referred to as Muhlenberg's turtle.  Bog turtles are one of those South Carolina turtle species that remains small, growing to a shell length of 3.5" to 5" max, making it the smallest North American turtle species. 
Their shells are keeled and range from dark brown to olive. Its head is dark-brown or black with orange, vibrant yellow, or red spots on each side of the neck. It lives for about 40 years in the wild. 
Bog turtles feed on an omnivorous diet, and their main food includes mollusks, invertebrates, and earthworms. On a few occasions, they eat plants. These turtles also feed in water and on land and are more active in the warmer parts of the day.
They are semi-aquatic and inhabit bogs and marshes, and are more common in the northwestern parts of South Carolina. Bog turtles thrive in mountain bogs and stand-alone wetlands with moist, acidic soil, deep mud, and thick moss. Tiny vegetation clusters allow sunlight to penetrate, which is required for basking and eggs incubation.
Bog turtles breed from the end of April to the beginning of June, and nesting occurs in the sunnier parts of a bog, often on sphagnum moss or tussocks. They lay a single clutch in a year carrying between two and six eggs.
These turtles are listed as threatened species in South Carolina owing to the loss of habitats. 
2.      Florida Cooter Turtle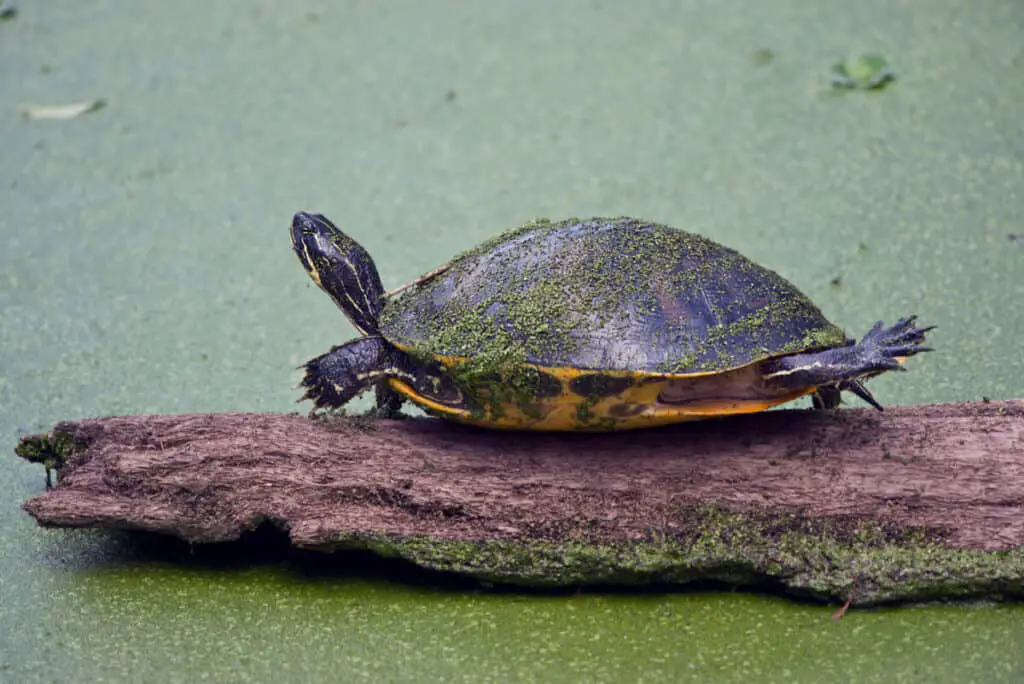 The carapace of this cooter turtle is dark with an orange or yellow pattern that is more visible in juveniles. Their plastron has a light color, while the neck and head have yellow stripes and are dark. The marginal scutes have dark hollow oval-shaped markings. Florida cooter species is referred to as Pseudemys floridana in scientific terms.
These cooter turtles grow big, getting to between 9" and 13". Their average lifespan in their natural environment is 50 years.
They are semi-aquatic, freshwater turtles with a preference for permanent waters with plenty of plant cover and soft bottoms. As such, they inhabit swamps, ponds, marshes, lakes, and slow-flowing rivers. In South Carolina, Florida cooter turtles are more common in the southeastern parts. They are social species often basking in groups.
Florida cooter turtles are opportunistic feeders, and they eat an omnivorous diet. Females feed on a variety of aquatic plants and while males look for aquatic invertebrates.
Clutches of this cooter turtle species carry an average of 16 eggs. Warmth is vital to the hatching of their eggs. These eggs remain in incubation for approximately 50 – 56 days, with the hatchlings often overwintering in their nests.
3.      Eastern River Cooter Turtle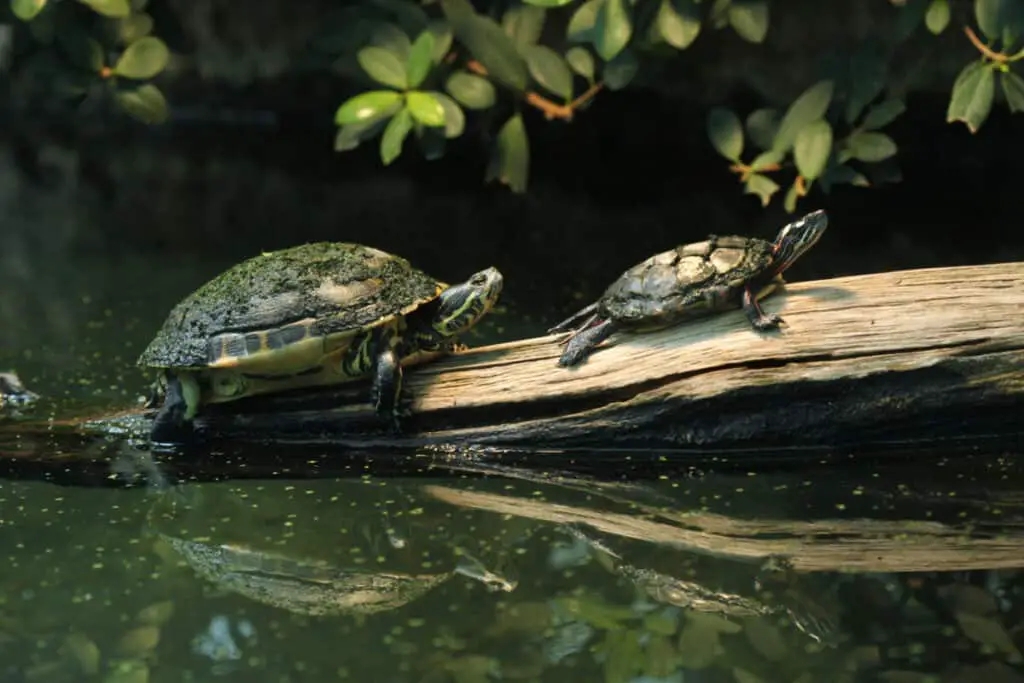 The biological name of this turtle is Pseudemys Concinna Concinna.
Their shells are slightly domed with a brown to olive color. It is also yellow around the edges, and the rear scutes are fluted. The carapace has swirling yellow marks. It gets the name river cooter because it is mainly common in big rivers.
This turtle subspecies below to the same species of river cooters together with Florida cooters. The tiny crescent-shaped marks can distinguish these two species on every side of the shell in Florida cooters.
Eastern river cooters come in either a brown, olive-brown, or black carapace with yellow stripes or marks. The plastron is often plain yellow but may sometimes have some dull gray-brown spots traversing the scutes, especially at the front.
Eastern river cooters have a lifespan of 20 – 40 years. They grow to medium size, often measuring between 8" and 12".
It is a semi-aquatic, freshwater species that inhabit rivers and streams. They frequently bask on logs and other protrusions, especially during spring. River cooter's diet is primarily herbivorous, and they often eat plants and other vegetation they come across.
Mating takes place in water, followed by laying eggs between May and June. They will lay a maximum of 20 eggs which stay in incubation for an average of 50 days. Hatchlings may overwinter in nests and emerge in spring. Eastern river cooter turtles' eggs and hatchlings are vulnerable to big fish, raccoons, and herons.
4.      Eastern Chicken Turtle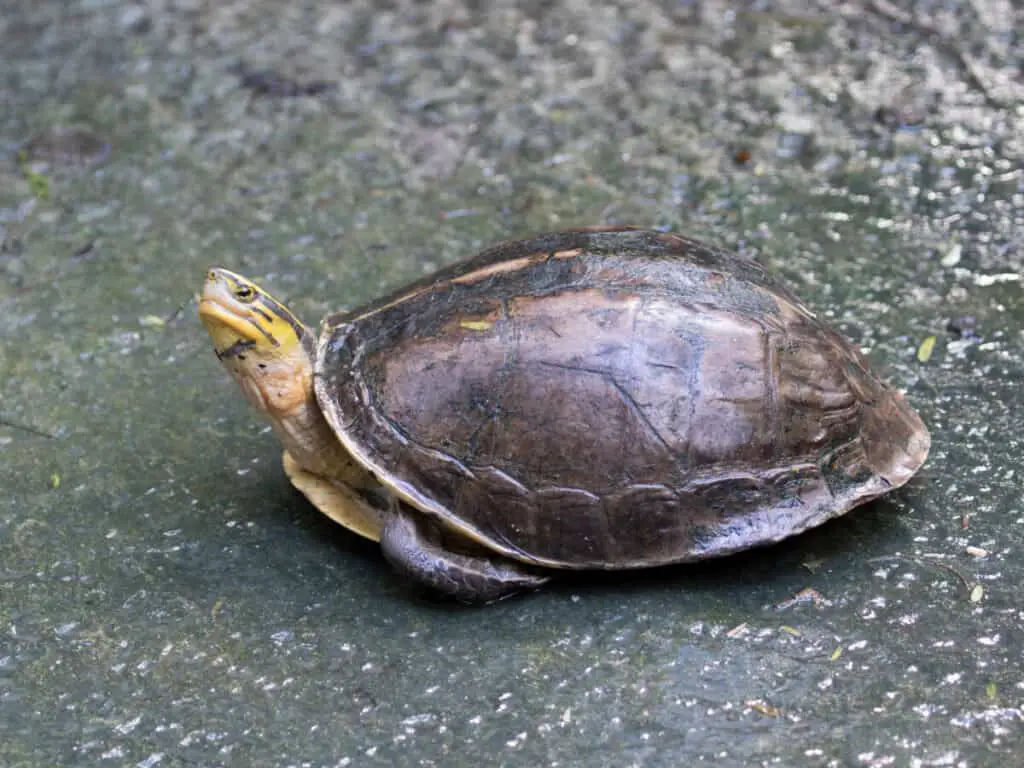 This is a subspecies of chicken turtles native to South Carolina. They are more prominent in the southern and eastern areas of this state, though their population is declining. The scientific name of Deirochelys Reticularia Reticularia.
Eastern chicken turtle's shell assumes a pear shape while the carapace is dark-brown or olive with orange or yellow lines forming a reticulate pattern. The plastron has a deep yellow color.
An identifying feature of this turtle is its long neck with stripes. It is so long that it's almost the same size as their lower shell. Due to the long neck, chicken turtles are at times referred to as American snake necks. Their legs also have yellow lines.
Eastern chicken turtles are moderately sized, growing to 4" – 10" in carapace length. Females grow bigger than males, but males have thicker tails, flatter shells, and longer claws on the front limbs.
They live in both land and water, meaning that they are semi-aquatic species. These turtles inhabit semi-permanent shallow still waters such as ponds, swamps, ditches, and Carolina bays. Chicken turtles are fond of waters with basking spots, soft substrate, and dense aquatic vegetation. During summer, they aestivate on land and also hibernate beneath thick leaf cover during winter.
They are omnivorous, though they feed on more meat.
Chicken turtles are unique in their reproduction. Their eggs need first to undergo a state of cold temperatures before development. They lay a maximum of two clutches in a year, with each carrying around ten eggs. The eggs overwinter in their nests before hatching. In South Carolina, eggs remain in incubation for a relatively long period of up to 152 days.
5.      Eastern Box Turtle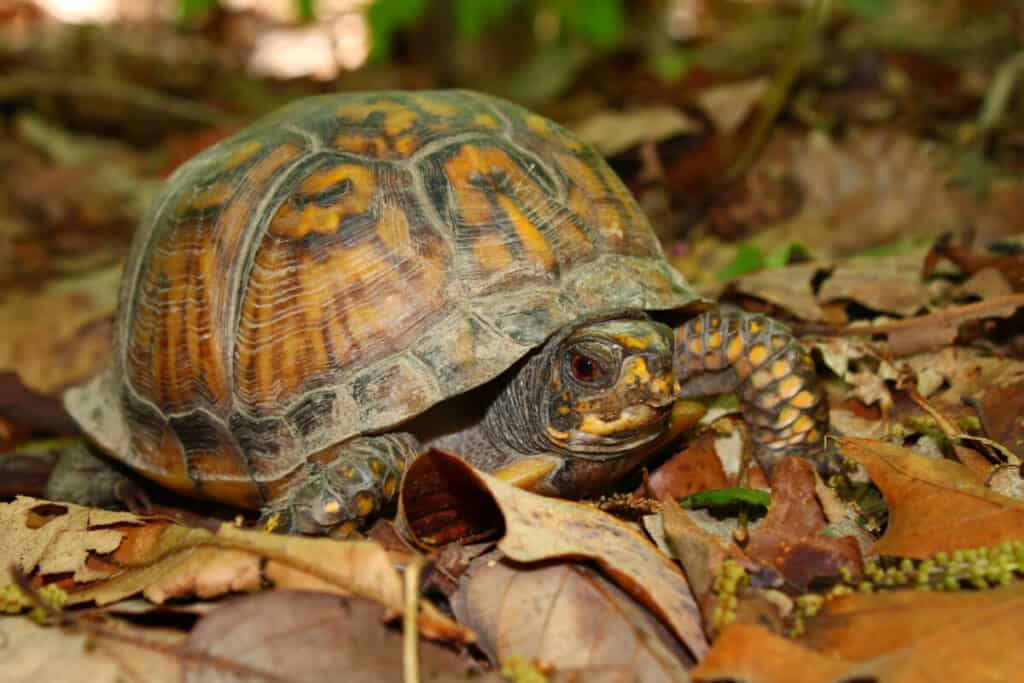 Eastern box turtles are easily identifiable by their highly domed shell and bright coloration. They are known as Terrapene carolina carolina in scientific terms. Their carapace has a high dome shape with tan or olive colors marked by yellow and orange markings.
These turtles hardly grow big, only getting to 4" – 6" and live for approximately 20 years.
The plastron is double-hinged, so the turtle can fully retract its head, limbs, and tail in the shell as a defense mechanism. You can tell apart males from females because males have a concave lower shell, which is flat in females. Further, the colors in males and juveniles are more vibrant.
Box turtles inhabit meadows, woodlands, streams, and ponds. They hardly wander too far from their habitats as their home range remains in a territory of a maximum of 250 square yards. Although they live in water, these turtles are not well adapted to swimming.
Do not collect from the wild as they are likely to die trying to get back to their habitat.
An omnivorous diet is what eastern box turtles eat. Juveniles eat more meat, especially insects, insect larvae, earthworms, and snails, while mature ones eat plants.
Eastern box turtles become sexually reproductive at the age of 4 or 5. They lay eggs in June and July with a clutch carrying an average of 5 eggs. After hatching, their young ones may overwinter in the nests or emerge and go direct into hibernation.
6.      Eastern Painted Turtle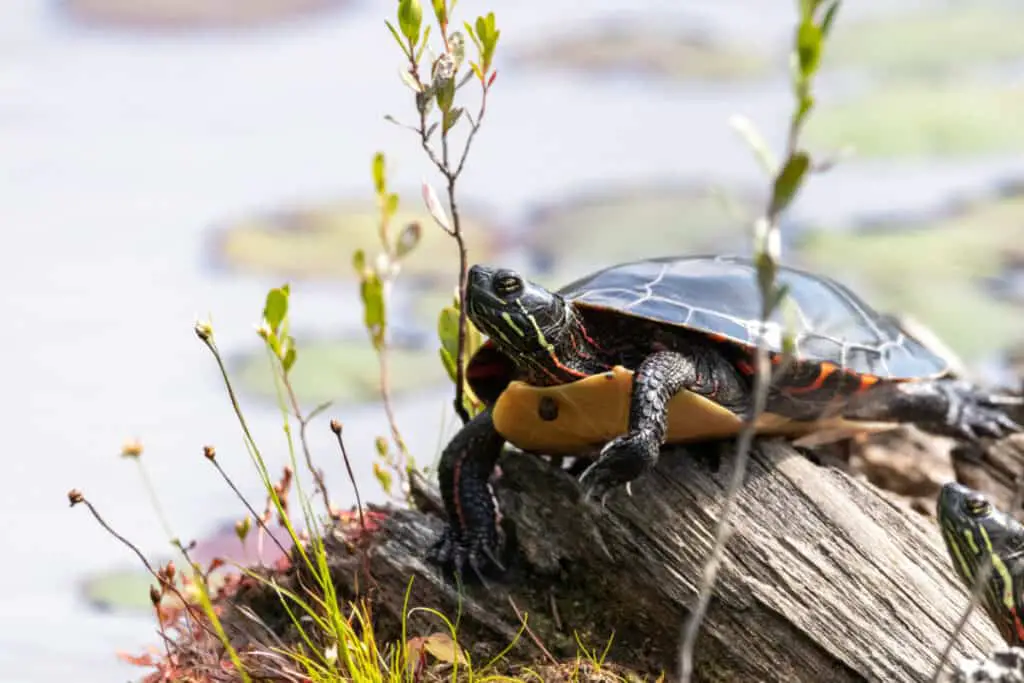 This painted turtle is also referred to as Chrysemys picta. It has an olive to dark brown smooth flattened carapace with lightly colored lines and lacks serrations along the back margins.  The neck and head have streaks of yellow and red lines, while behind each eye are two yellow blobs. Their plastron is unhinged. 
It grows to a medium size of between 4.5" and 6" with a maximum kgs weight of 0.6 kgs. Their lifespan ranges between 20 -30 years, but they can live for up to 60 years.
They have a preference for habitats with plenty of aquatic vegetation and basking areas. In South Carolina, these painted turtles are common in marshes, lakeshores, slow-flowing streams, bogs, and shallow ponds. It is not uncommon to see eastern painted turtles basking in groups on slightly submerged rocks, logs, and protrusions.
Painted turtles feed on animals and plants alike. Their diet often includes algae, aquatic vegetation, snails, fish, crayfish, and frogs.
Breeding happens in late winter and early spring. Female painted turtles make nests in parts with loose soil or sandy soil open to sunlight. Eggs in a single clutch range from four to twenty and take a maximum of 10 weeks in incubation and a minimum of 6. Hatchlings may stay in the nests and emerge at the beginning of spring. 
7.      Eastern Mud Turtle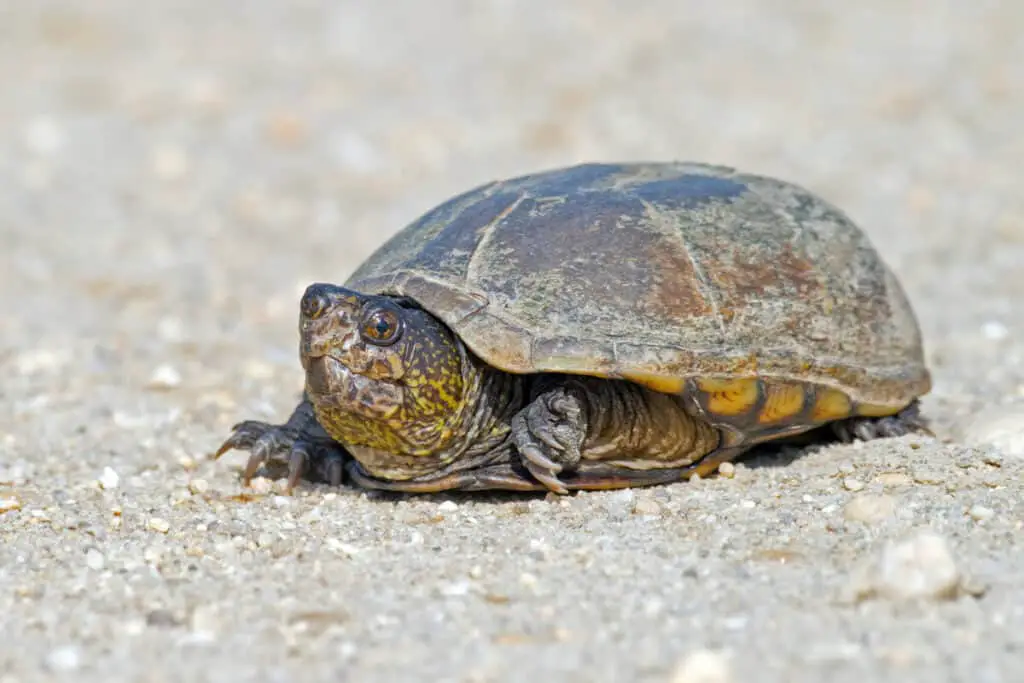 Also known as the common mud turtle, this turtle's scientific name is the Kinosternon subrubrum. Their shells range from yellow to green to brown. They have a smooth carapace that is oval-shaped but is quite sharp on the sides and at the back.
They hardly grow big, only getting to between 3" and 4" when adults. In terms of lifespan, they live for around 50 years.
These turtles can be found in brackish or fresh waters and often inhabit slow-flowing, shallow waters such as swamps, marshes, and bogs. Abundant vegetation is also vital in their aquatic habitats. They also move a lot on land and burrow and hide in mud during hibernation.
Eastern mud turtles feed on an omnivore's diet and often eat plants, mollusks, snails, worms, and in rare cases, fish.
Common mud turtles lay 2 – 5 eggs, and nesting occurs from June to July. Unlike the eggs of most turtles, the eggs of this mud turtle don't absorb water and have hard shells. Hatchlings emerge from August through to September.
Eastern mud turtles can be found throughout South Carolina and are not endangered species.
8.      Striped Mud Turtle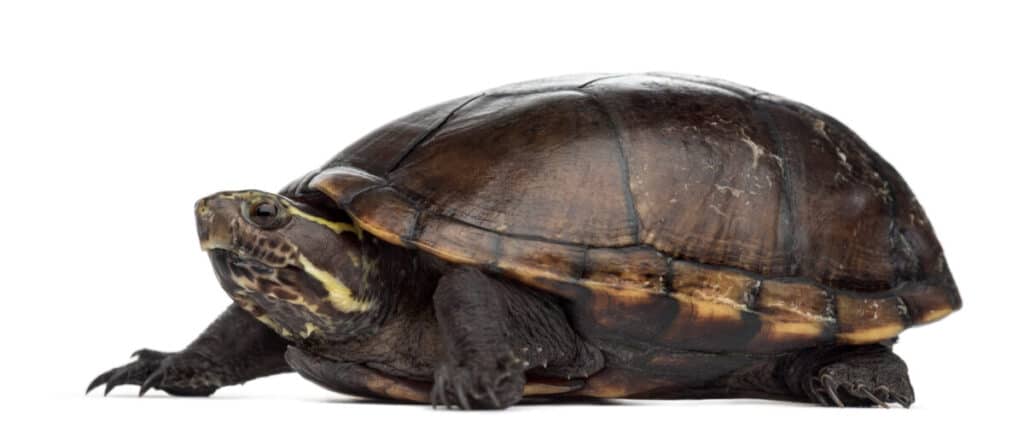 This turtle, marked by three light-colored stripes traversing its shell, is also known as Kinosternon baurii. They are also known as three-striped mud turtles. In some places, the stripes may be absent or not visible.
Striped mud turtles are in some cases confused with eastern mud turtles. A distinguishing feature between the two is that striped mud species have light stripes running from the eyes to their nose's tips.  Striped mud turtle's carapace is domed, smooth, with a dark brown color. Sexes can be distinguished by observing the tail, which is lengthier and thicker in males.
The turtle hardly grows big, only getting to a length of 3" – 4" while their hatchlings measure 1". Their expected lifespan is 50 years.
These turtles are more common in the coastal parts of South Carolina. They inhabit shallow, ephemeral wetlands and are not fond of flowing waters. The turtles are facing a threat of loss of habitat due to developments in these areas. Striped mud turtles also live in terrestrial habitats and move a lot on land.
Like the other mud turtles, striped mud species eat an omnivorous diet mainly composed of aquatic invertebrates.
Female stripped mud turtles lay an average of four eggs at the beginning of summer. They can lay eggs even without mating, but these eggs would be infertile.
9.      Diamond-backed Terrapin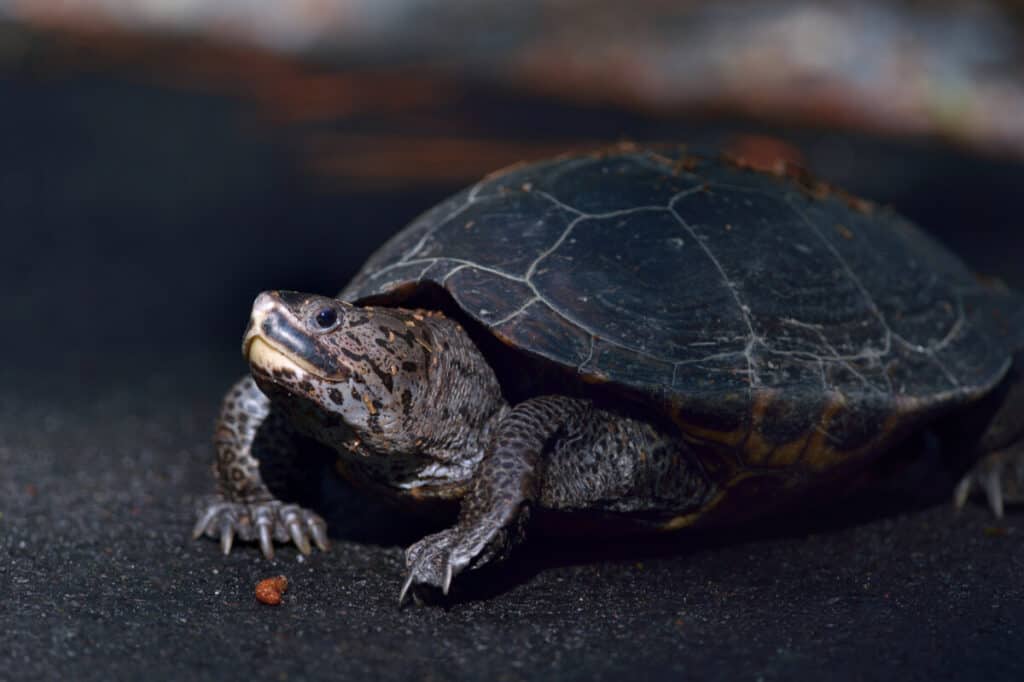 Male diamond-backed terrapins hardly grow big, only getting to 4.5" – 5". On the other side, females become significantly bigger, getting to a shell length of 6" – 9". Their lifespan ranges between 20 and 40 years.
These turtles can be identified by their unique gray skin marked with black specks. Their upper shell color ranges between black and dark green. The turtle also has some keels traversing the spine of the carapace. They get their name from their scutes being diamond-
They have a preference for brackish waters such as tidal estuaries and marshes. In addition, they are also good swimmers.
Diamond-backed terrapins are omnivorous with strong crushing plates and jaws that enable them to eat prey with hard shells including crabs, and mussels. They also feed on fish, carrions, insects and worms, vegetables, and fruits.
This turtle species mate in water at night in May. Females make shallow nests on the sand where they lay eggs. A clutch carries an average of 15 eggs, and they may lay more than one clutch in a year. Sexual maturity is attained from the age of 6 years.
10.  Common Musk Turtle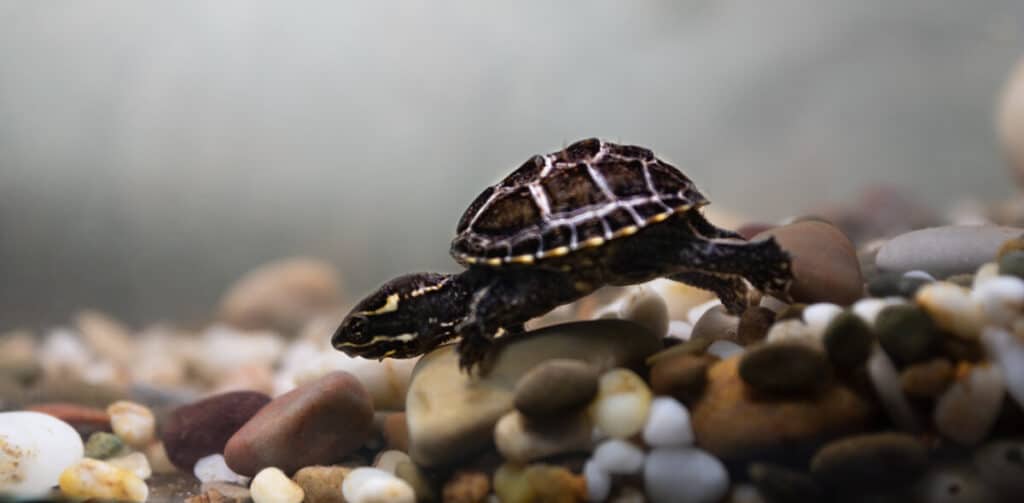 These turtles are also known as eastern musk turtles or stinkpots. Their scientific name is Sternotherus odoratus. It emits a strong odor from their musk glands on the corners of their plastron as a form of self-defense against predators.
These musk turtles have a dark brown tending to black, unmarked carapace that often accumulates algae. Their heads are also dark-colored with two yellow lines. They also have meaty barbels on their dark necks and chins.
The turtle hardly grows big, only getting to between 4" and 5". Their lifespan ranges between 40 and 55 years.
Common musk turtles are highly aquatic and inhabit permanent freshwaters such as rivers, ponds, clear water lakes, and streams. They often live on the shallow ends of the waters and are present in most parts of South Carolina.
Musk turtles are omnivorous, often eating seeds, algae, snails, insects, and tadpoles. On rare occasions, they hunt fish carrions. These turtles are nocturnal feeders. Surprisingly, musk turtles are good climbers even on high trees where they at times rest.
Breeding takes place in spring and fall, and this species mates in water. Their females lay one or two clutches with between one and nine eggs. As with most other turtles, common musk species look for terrestrial habitats for nesting. They prefer laying eggs beneath rotting leaf cover. Hatchlings emerge after between 63 and 84 days, measuring 1 inch.
11.  Common Snapping Turtle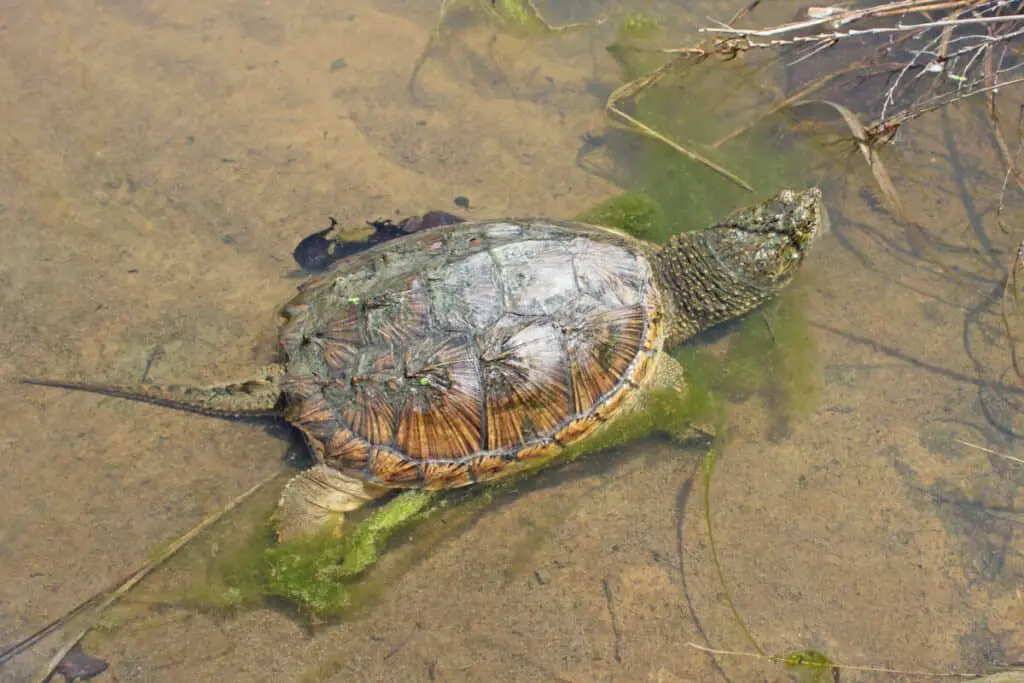 Other terms used to refer to this turtle include snapper, common snapper, and eastern snapping turtle, and its scientific name is Chelydra serpentina. Their shells are rough and vary from green to dark brown. The turtle has a unique hooked beak, long tail with saw-toothed spines, and strong claws.
This is yet another freshwater turtle species that grows big to a carapace length of between 8" and 20". Their lifespan ranges between 30 and 50 years.
Common snapping turtles inhabit large water bodies of freshwaters but even brackish waters at times. As with most other aquatic species, they prefer bodies with muddy bottoms and plenty of vegetation. It is worth noting that they can be aggressive, and when agitated, they can bite.
These turtles are nocturnal omnivorous and often eat underwater plants, algae, fish, and other aquatic invertebrates. Because of their strong jaws, they can eat and crash nearly anything.
Their maturity takes a little longer than most turtles as they mature at 10 – 12 years. They nest several times a year, laying an aggregate of up to 83 eggs towards the end of spring and in summer. Females nest far from water, and in some cases, they are hit by motor vehicles when crossing roads in search of nests.                                          
12.  Yellow-bellied Slider Turtle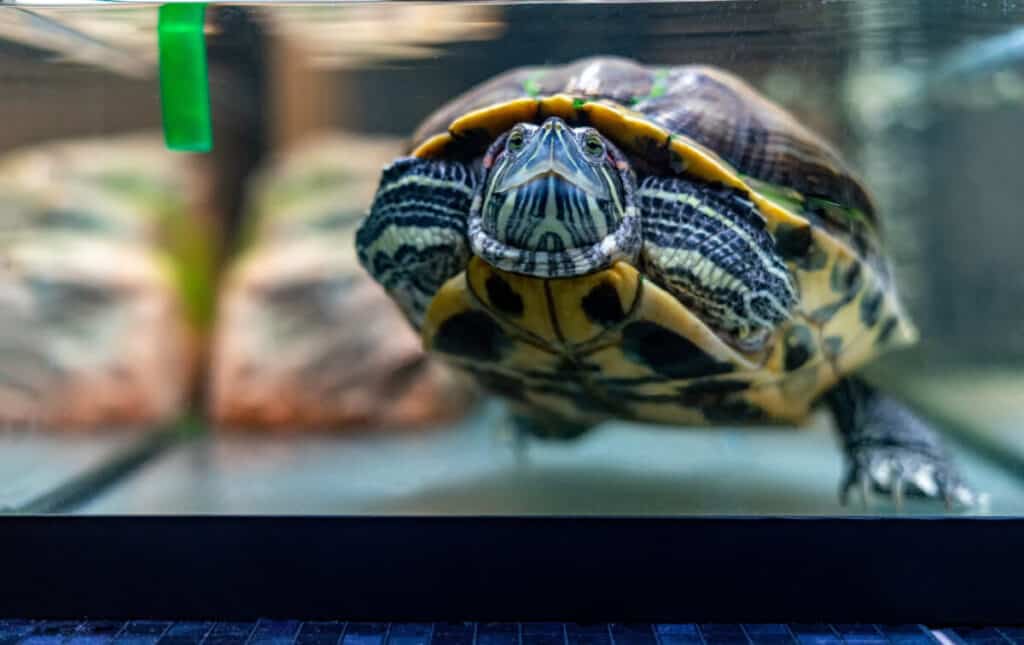 Its scientific name is Trachemys scripta scripta. The turtle gets its name from its yellow plastron and markings on its skin. They also have very vibrant yellow stripes behind the eyes. It is a subspecies of pond sliders.
They grow to moderate to large sizes, often measuring between 5" and 12". Their lifespan ranges between 20 – 40 years.
Yellow-bellied sliders are often found in wetland areas such as lakes and rivers. They are common in most parts of South Carolina other than the northwestern parts. It is also common to see them on land as they relocate to more suitable habitats.
Their young ones are primarily carnivorous, feeding on tiny fish, insects, and worms. As they mature, they eat more plants, and adults feed almost entirely on a herbivorous diet.
Females become sexually grown between 5 and 8 years, while males achieve maturity at 2 – 5 years. They lay a maximum of two clutches in a year, with each having 2 – 20 eggs. The hatchlings emerge after 63 – 90 days of incubation.
13.  Gopher Tortoise Turtle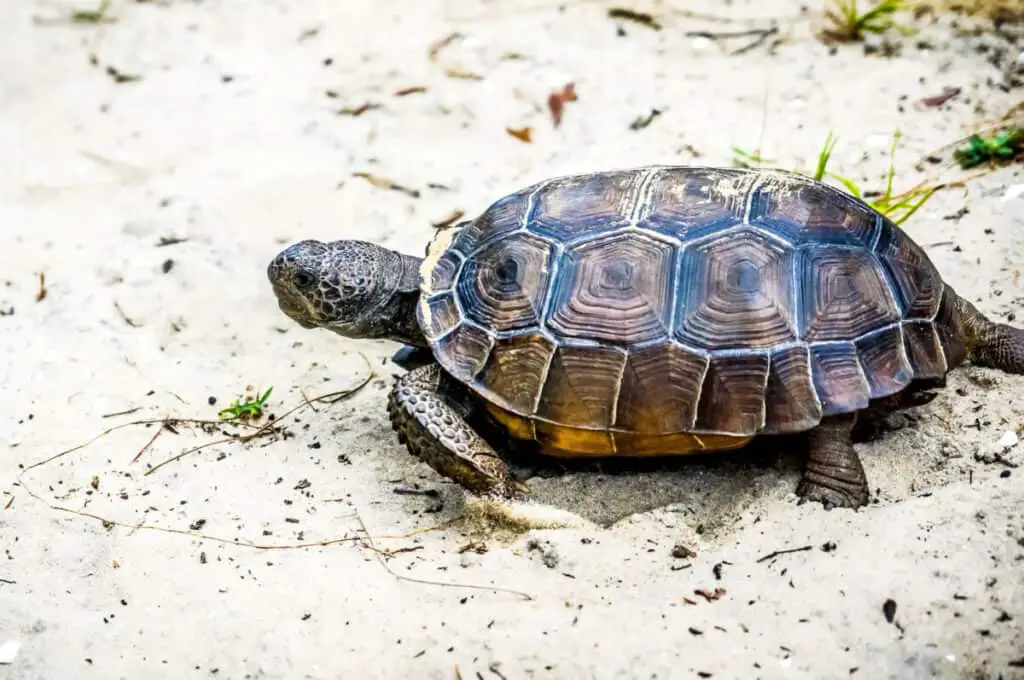 One of the biggest turtles worldwide – gopher tortoises are scientifically known as Gopherus Polyphemus. It has a brown, gray-to-black carapace while the plastron is yellow. Males have a concave lower shell, while it is more flattened in females.  
Gopher tortoises are very big terrestrial reptiles. They measure 13" long, and their shells are highly domed, measuring up to 12" in height. This tortoise weighs between 10 and 20 lbs.
They are terrestrial turtles meaning that they spend their entire lives on land. Gopher tortoises often dig burrows to hide during extreme weather, but these burrows also provide shelter and nesting areas for other species.
These giant tortoises are herbivores and eat different types of vegetation available in their environment.
Female gopher tortoises lay between 6 and 20 eggs once every year. Their incubation process is longer than that of most turtles, taking up to 100 days.
Gopher tortoises are endangered species in North Carolina.
14.  Spiny Softshell Turtle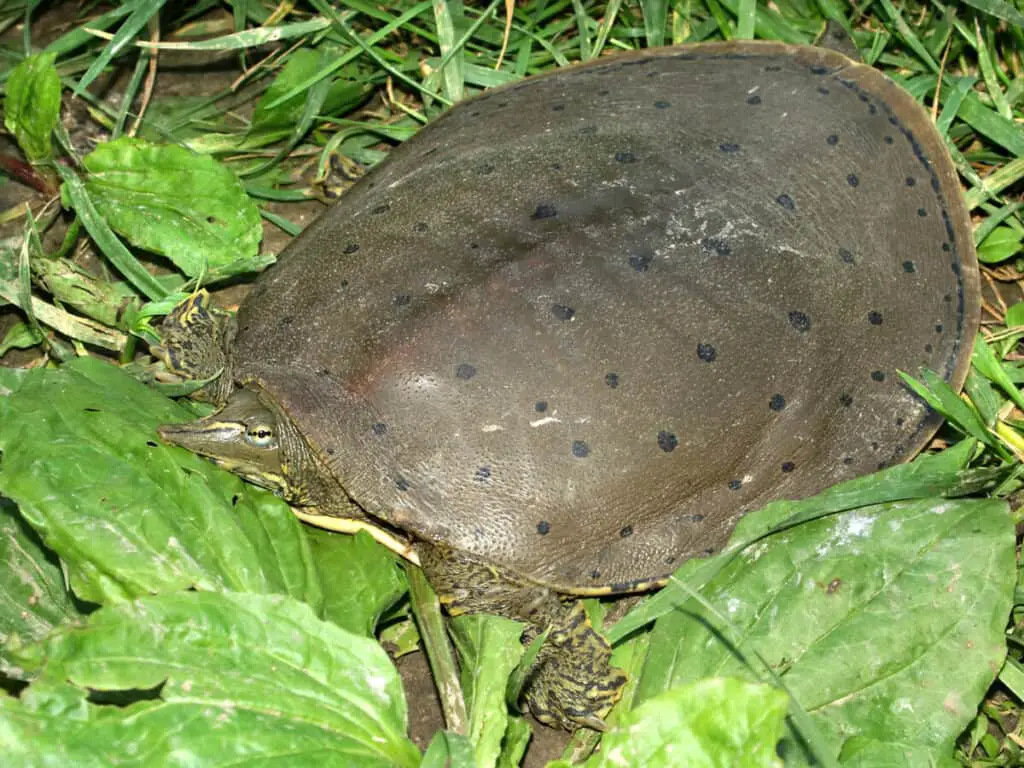 The spiny softshell turtle is one of the biggest freshwater species, and its scientific name is Apalone spinifera. It gets its name from cone-shaped, spiny projections on the front edge of its carapace that are neither scales nor scutes and more common in males.
They grow to and have an average lifespan of 50 years.
The turtle's carapace has a brown to olive color, and the plastron is often colored yellow or white. Their babies have dark dots on the carapace, which disappear in females with age but remain visible in males even when mature.
Spiny softshell also have three claws in each limb, and their feet are webbed to make them more adapted to survive in water. Further, they are distinguished by a fleshy, long nose and dark lines running from their heads to the sides of their necks.
Softshell turtles are aquatic and spend plenty of time in the water. Key items in their habitat include gravel or sand for nesting, shallow sandy or muddy parts for burying themselves in, basking spots, and relatively deep pools for hibernating. They inhabit lakes, rivers, creeks, and ponds, and ditches close to a river on a few occasions.
These aquatic turtles feed primarily as carnivorous and can either hunt for prey actively or hide beneath the sand and stay still waiting to ambush prey. 
Spiny softshell breeds in May and June, and they lay a single clutch per year. The clutch contains an average of 25 eggs to increase the chances of some surviving as their eggs are predated on by raccoons and skunks, among other predators.
15.  Florida Softshell Turtle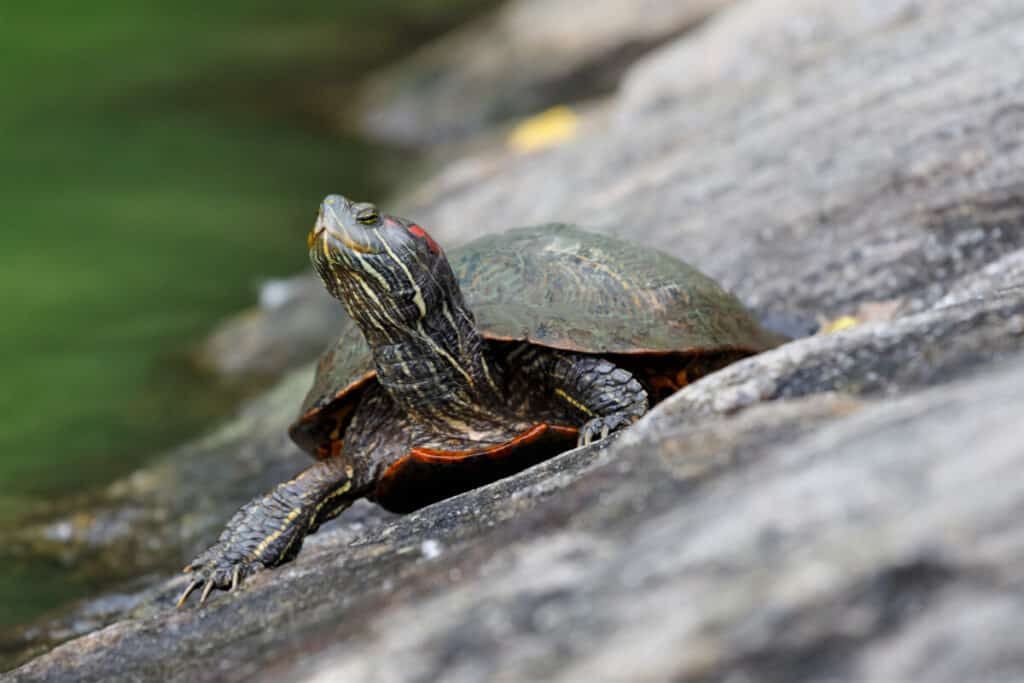 Florida softshell turtles are largely aquatic species. Apalone ferox is their scientific name, and they exhibit sexual dimorphism. Adult males measure 6" – 12" while adult females are significantly bigger, measuring 11" – 24". They are the biggest Softshell species in South Caroline and the US at large.
These softshell turtles' average lifespan is 30 years.
These turtles lack the hard shell found in most turtle species. Instead, they have a leathery shell that resembles a pancake. The upper shell ranges from olive to brown, while the lower side is gray or cream.
They are largely aquatic, and in South Carolina, they are only found in the southern parts. Florida softshell turtles have a preference for slow-flowing waters and often inhabit streams and lakes.
Florida softshell turtles are carnivorous, meaning that they don't eat plant matter. Their main food includes fish, mollusks, amphibians, crustaceans, and other turtles too.
Nesting for these softshell turtles occurs in both May and June. They may lay multiple clutches in a year, often preferring to nest near water in other turtles' nests or burrows on soft sandy parts.
16.  Hawksbill Sea Turtle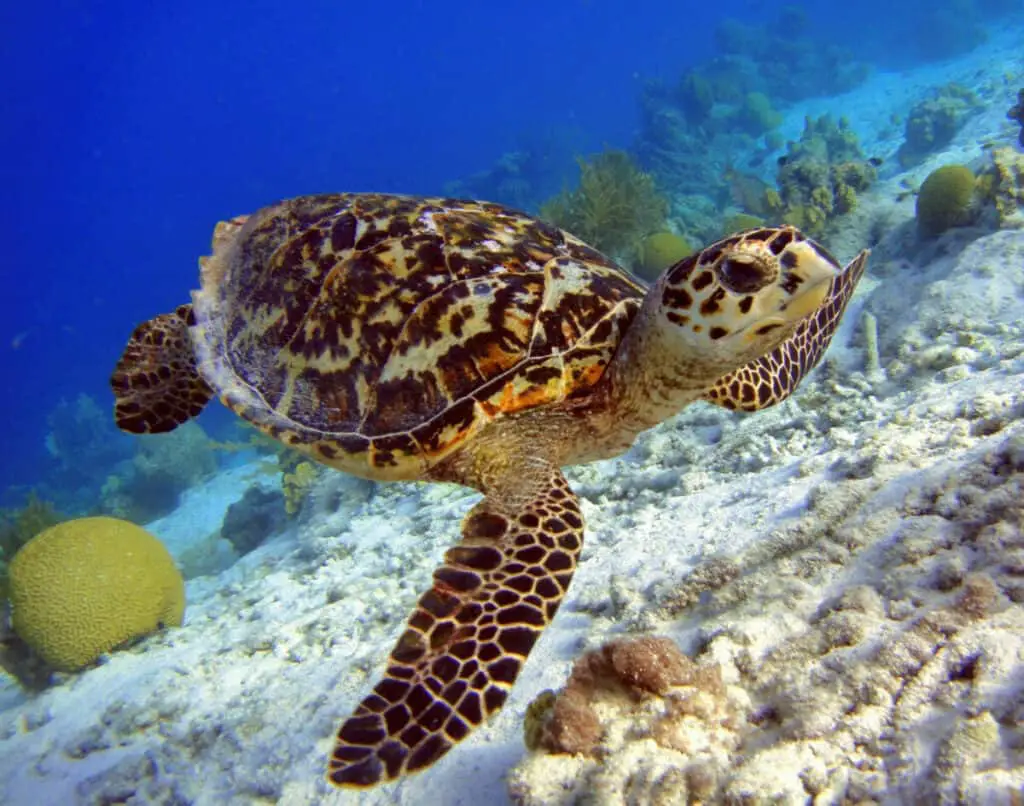 This turtle is popular for the colorful shell that makes ornaments, glass frames, and combs. This turtle species is known as Eretmochelys imbricate. Their beautiful carapace has an oval shape in juveniles while it is elongated in adults. Females have more vibrant colors than males.
They have narrow heads and jaws that resemble beaks hence the name hawksbill. Their flippers have claws that are longer in males. Males also have thicker tails making it easier to distinguish the sexes.
Hawksbill sea turtles grow very big as an adult can measure up to 35". Their lifespan ranges between 30 – 50 years.
They often live along the coastline, lagoons, and coral reefs and largely avoid open waters. Long-distance migration in search of nesting and feeding grounds is common with this turtle species. These sea turtles are omnivorous and often eat fish, shrimp, jellyfish, crustaceans, sea urchins, squids, and algae.
Female hawksbill turtles look for sandy beaches to lay eggs. Upon laying eggs, they cover their nests with sand and leave the eggs to incubate. After around 60 days, hatchlings will emerge, and their sex is warmth-dependent.
Hawksbill sea turtles are endangered species in South Carolina.
17.  Kemp's Ridley Sea Turtle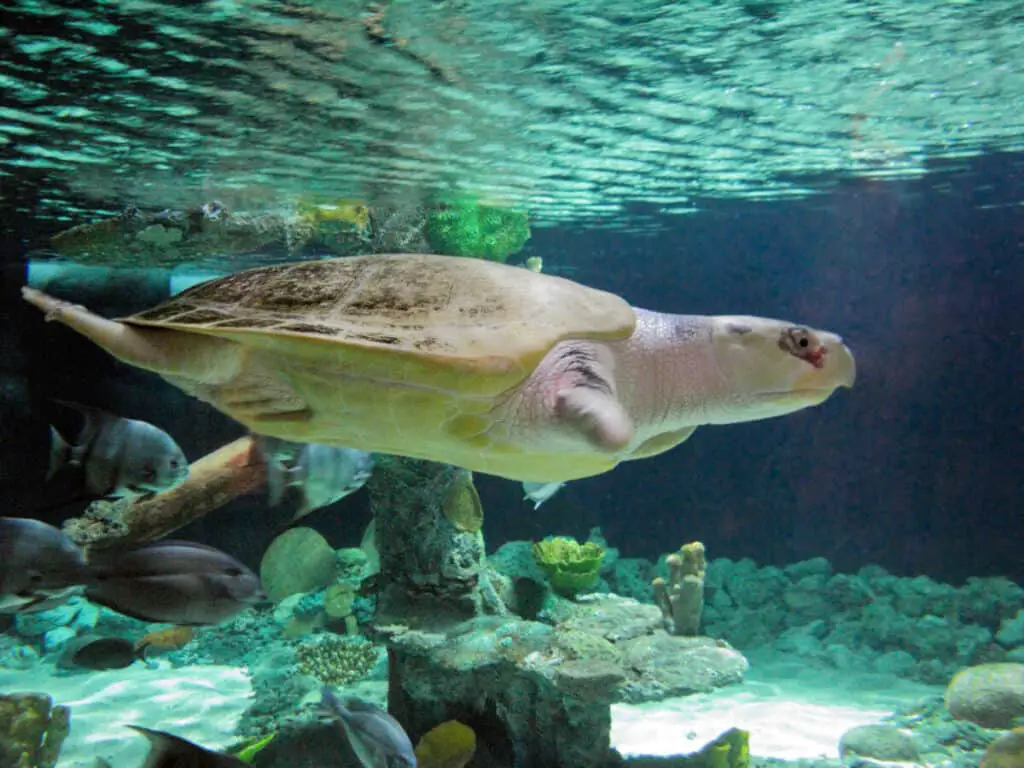 This is one of the most endangered species and is known as Ledipochelys kempii in scientific terms. They are named after Richard Kemp, a fisherman who discovered them and helped study the turtle. Their upper shell is green, while their plastrons range from yellow to cream.
They grow to a carapace length of 24" and can weigh up to 100 lbs. On average, they live to the age of 50. 
Nesting occurs about thrice a year, with each clutch carrying around 110 eggs. The incubation process takes approximately 55 days. These turtles are the smallest in terms of population, and they are an endangered species.
Kemp's Ridley lives along the shallow parts close to the coastal line. They prefer sandy or muddy bottoms but often move to other regions to scavenge or hunt for food. 
Their main food includes clamps, Russell's, and shrimps, with crabs being their favorite. 
These turtles nest two to three times in a season. They lay a big number of eggs of up to 110 in a clutch, often along beaches, and leave the turtles to hatch.
18.  Loggerhead Sea Turtle
Their big heads and strong jaws identify this group of turtles.  Their carapace is soft, has pronounced ridges, and is reddish-brown, black, or gray, while the plastron is yellow. They are also characterized by having long-powerful flippers.
They are some of the biggest Chelonian turtles, often reaching a maximum shell length of 30" – 45". They can weigh as much as over 150 pounds. 
They mainly inhabit coastal waters especially shallow bays and can travel far following warm water currents. While doing so, they move with organisms such as barnacles that are often in their shells.
Jellyfish is loggerheads' favorite food. Their hatchlings eat an omnivorous diet, but adults are carnivorous.
Sexual maturity is reached when they are aged ten and above, but it can take thirty years. Females nest multiple times with a minimum of 3 nests and a maximum of 5 in a year. They lay a considerable big number of eggs with a clutch containing between 40 and 190 eggs.
They are listed as threatened reptiles in South Carolina.
19.  Green Sea Turtle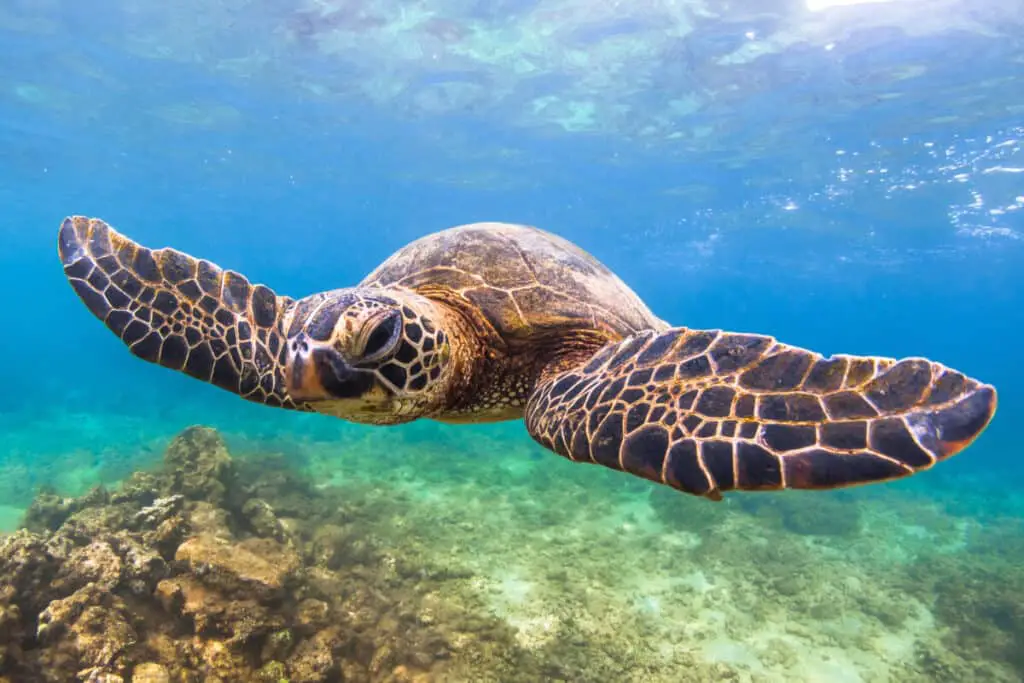 These turtles get their name from a layer of green-colored fat below their shells attributed to their herbivorous diet. Chelonia Mydas is the biological name of the turtle. It is easily identified by a single pair of scales in front of its eyes. This is different from other sea turtles that have two pairs.
Yet another one of the big sea turtles in South Carolina, green sea turtles, measure up to 32" – 43". They can weigh as much as 400 lbs. and their expected lifespan is 80 years.
These sea turtles live in tropical and temperate waters. Older ones may also be seen along the coastline in lagoons and bays. Although aquatic, they also swim to the shore to bask. Green sea turtles are known to migrate long distances in search of suitable nesting and feeding areas.
They are omnivorous, and their younger ones feed on more meat, but as they grow older, they switch to a more plant-based diet.
Females move ashore in search of nesting grounds. They can lay up to 110 eggs which they leave to hatch on their own. After about 60 days of incubation, hatchlings will emerge from the nests, often buried in sand, and move to the ocean.
These turtles are listed as threatened species in South Carolina.
20.  Leatherback Turtle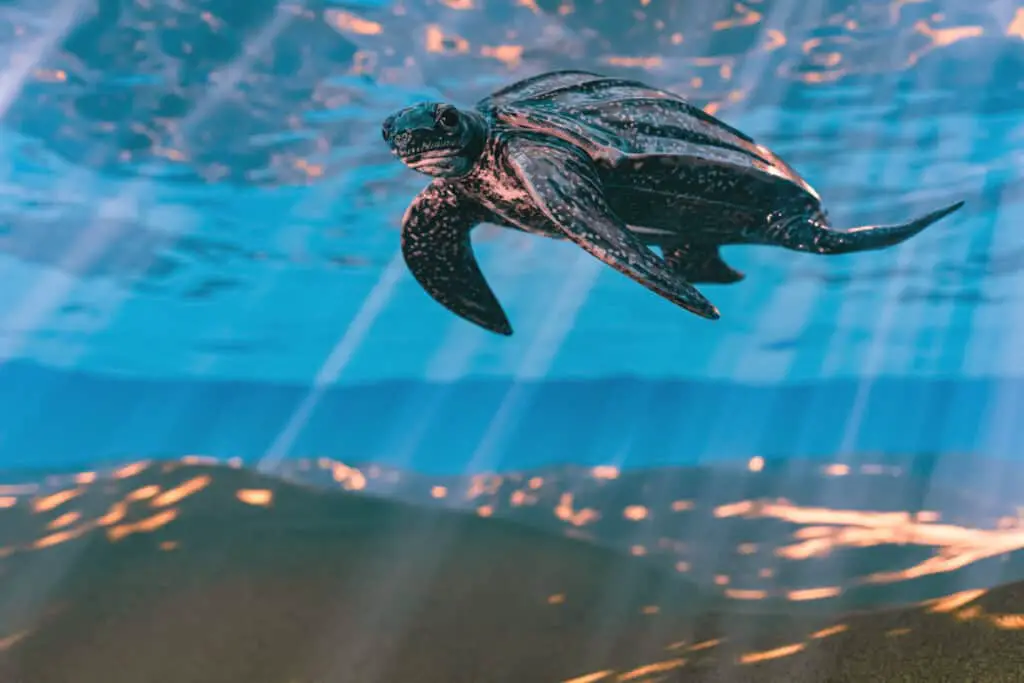 The final sea turtle in South Carolina is the leatherback turtle, also known as Dermochemyls coriacea.  It is also referred to as luth. Unlike all other turtles, leatherbacks' shell is made of skin with several bones attached to them. Although soft, the shell is still tough enough to protect these turtles from sharks.
 In adults, the shell is smooth and dark but appears mosaic. It is also flatter than on most turtles to help them swim better.
Leatherbacks are the biggest sea turtles growing to between 6 and 7 feet long. They also weigh upwards of 1,000 lbs. up to 1450 lbs., and their habitats are open seas.
They mainly feed on fish, jellyfish, and tunicates. Unfortunately, leatherback sea turtles are unable to distinguish plastics from their favorite meal; jellyfish. As such, most have been found to eat plastics leading to their death.
Their females nest up to 6 times a year, and a clutch carries between 60 – 105 eggs. Nesting often occurs between May and June. Females often travel to the beaches where they hatched to lay eggs but may opt to nest elsewhere.
In South Carolina, leatherback turtles are listed as endangered species.
Turtle Laws In South Carolina
Some of these turtles in South Carolina are vulnerable or endangered. The laws have been established to regulate their possession, trade, hunting, and other activities that threaten these species to become extinct. As soon as October 2020, this state passed new regulations to aid the dwindling populations of some of these turtle species.
Here are the current turtle laws in South Carolina.
·       Possession
It is illegal to personally possess more than 5 of the following turtle species Florida cooter, Florida softshell, river cooter, eastern painted, eastern mud, stripped mud, common musk, common snapping, spiny softshell, chicken turtle, and yellow-bellied slider turtle.
It is also prohibited to possess more than two diamondback terrapins or eastern box turtles. Further, personal possession of more than ten turtles is unlawful in South Carolina.
Threatened and endangered turtle species, i.e., all sea turtles, bog turtles, and gopher tortoises, may not be possessed.
·       Commercialization
The sale, purchase, export, re-homing, shipping, exchange, and barter trade of turtles is illegal. This regulation makes an exemption for snapping and yellow-bellied species that certified private ponds and aquaculture facilities may trade.  Exemptions include transfer for research purposes among institutions such as research centres, zoos, educational facilities, and registered and permitted rehabilitation centres.
·       Release of Non-native Species
The law prohibits the release of species that are not native to this state into the wild. If caught, there are hefty penalties for this. The release of non-native species leads to competition for existing reasons in the state. If not kept under watch, it can lead to a crisis among the turtle species and other animals.
·       4-Inch Law
This law applies to the larger US and not just South Carolina. It is illegal to sell, possess or purchase a sea turtle measuring below 4". It's meant to combat the spread of Salmonella to households and reduce environmental damage.
Frequently Asked Questions
Is It Allowed To Keep A Box Turtle From The Wild?
South Carolina's new turtle laws do not allow you to keep any of the native turtle species. As such, it is illegal for you to collect a box turtle from the wild and keep it as a pet. The new rules also probit you from trading, exporting, or barter trading these species.
How Many Turtle Species Are in South Carolina?
This state is home to about 20 turtle species. They include the gopher tortoise, five sea turtle species, and 14 native species. Some of them are in abundant numbers, while others are threatened or endangered, facing the risk of extinction.
South Carolina is very keen on preserving the existing species and has put in place rules and regulations to protect their numbers and habitats.
Which Is The Most Common Sea Turtle In South Carolina?
This is the loggerheads. They can be seen in most coastal waters here. These turtles also come to the beaches to nest. Even though they are the most common among the five sea turtle species in South Carolina, they are threatened as their numbers have been significantly declining.
Learn more about other turtle species: